Johanna Xenobia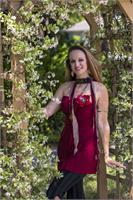 Johanna 'Xenobia' Krynytzky, Director and Owner of Hip Expressions Belly Dance Studio, has been a full-time teacher and performer of belly dance for over a decade. This ancient art originally piqued her interest while a student of both Art History and Anthropology at the University of Chicago. After graduating with a double major, she worked at the Field Museum of Natural History where she managed the Education Programs and Performances. Today, she uses that information to run a dance studio with over a dozen instructors on staff, workshops with guest instructors, festivals, and monthly dance showcases.
Dance was a door for her as she continued studying movement and the human body, attaining her Massage Therapy license in 2001, and practicing ever since. Johanna, also a Reiki II, continues to study yoga and meditation, finding all these disciplines inter-connected and highly relevant in continuing to explore the art of being human. In Dec 2015 she attained 500 hour Yoga Teacher Training certified by Yoga Alliance, where she has been blown away by the power of an authentic yogic eight limbs practice.
Though Johanna is honored to be caretaker of the Hip Expressions community, she loves teaching dance, yoga, and movement classes where she can inspire students through this ancient dance form that continues to evolve today. Equally rewarding is working on a client through bodywork to assist in the healing process.
Great inspiration comes from working with other dancers, musicians, and artists on collaborative projects, from short choreographies to full length productions as well as fire dancing on the beach.
While her vision includes touching souls through her art, true transformation can only be achieved as a personal journey, and it is her goal to inspire you to explore yours.
Johanna Xenobia instructs the following:
Now that you're familiar with the basics, let's move a little faster into combinations, drills, and more. Learn to put the moves together with smooth transitions, accents, and especially - attitude! We'll get confident in our footwork and traveling, add some layering, and work on polished arms to finish out the beautiful moving work of art which is our dance!






The Hip Stars is a Hip Expressions Studio company specializing in professional presentation of the variety of the art of Belly Dance. Students will learn troupe choreographies, as well as develop solos for performances at 1001 Nights Showcases, and various other community outreach and private parties. Participation in the Hip Stars is for intermediate/advanced students to professional dancers who show passion and dedication. Students who are interested in joining should speak directly to the director about their intent, and will be given guidelines to follow that would potentially lead to an invitation. Directed by Johanna Xenobia, dancers in Hip Stars will develop performance technique, stage presence, gain performance savy, and learn to work as a group and solo, while continuing to refine their technique. The Hip Stars mission is to have fun and inspire others through group dance art performance and interaction, while fostering the growth of individual dancers.




Come drill your isolations, build your stamina, and get movin'!

Repetition will build muscle control & strength, and help refine technique and improve your posture. Corrections will be given to make sure you're sealing safe & healthy alignment into your muscle memory!




"GROOVE" - an intuitive rhythmic feel & sense of cycle in motion, through interaction of music & motion, often with a sense of swing

Come get your 'groove' on with belly dance! Techniques & exercises will be used to integrate your body with the music, your body with other bodies, and stimulate your ability to improvise with the music. Let your soul come to light and fly!

The ancient art of belly dance is a unique way to get to know your body inside out. The unique muscular and skeletal articulations promote strong and healthy joints and muscles, while supporting a personal manifestation of the music. Be creatively inspired in this class as we dance through snake-a-licious slow beats and drive our hips to fast drums, learning to listen to ourselves as we bring our emotions to our dance.
This class supports any technique or skill level, rather, bring your soul to the dance and your body will follow.

Spring Session: April/May

Joint Integrity & Alignment: Where is your body in space? We'll explore the anatomy of the dance, to express ourselves safety from where and how our feet touch the floor to touching the sky with our fingertips...