Erin DePrizio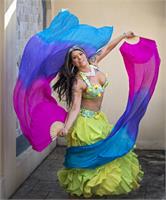 Erin DePrizio has been in dance since the year 1990, when she joined the Pom Pon Team at her high school in Denver. From there, she became a go-go dancer in the Denver area and competed in many Dance Competitions.
Belly dance came into Erin's life in the year 2003 when her best friend prompted her to take some classes with Suzanna DelVeccio. Erin then proceeded to join Raks Benazir as a Tribal Belly dancer.
Dancing at a Hafla, Kaya and Sadie approached Erin with a dance troupe idea that soon became Groove Du Monde. Traveling around the United States performing Brazilian Samba and Belly Dance, Erin made her way to Florida, and found her love of dance was greeted with open arms at Hip Expressions Dance Studio in St. Pete.
Now married and working as an insurance agent, Erin has found a love of dance in teaching and performing right here in St. Petersburg, and is pursuing the dance troupe Samba Syndicate.
Erin DePrizio instructs the following:
Come learn the beautiful art of belly dance! This class will introduce you to the basic isolations you need as a solid foundation for belly dance. Learn new and exciting things about your muscle groups, how to access your inner core to create beautiful and fluid movements. We'll also work on arms, posture, and some footwork will be introduced to lay the groundwork to delve into this art form. As your muscles strengthen, your control will improve and you will see yourself start to dance! Develop self-confidence, coordination, and comfort inside your own skin that brings out your inner Goddess!

Spring Session: April/May




"Samba Syndicate" is a Professional Brazilian Samba Troupe

specializing in traditional Brazilian Samba choreography.

"Our mission is to inspire others through dance, while maintaining a positive attitude as we inspire others through the origins and art of Brazilian Samba. To be part of a team of professional and respected dancers as we work together in harmony. Troupe member benefits include, but not limited to, getting together with like-minded dancers and gaining ongoing support, keeping physical activity a top priority in our life, improve our respective dance and techniques, and ultimately putting on flawless, professional shows while having FUN!"

- Director Gypsi Erin




Now that you're familiar with the basics, let's move a little faster into combinations, drills, and more. Learn to put the moves together with smooth transitions, accents, and especially - attitude! We'll get confident in our footwork and traveling, add some layering, and work on polished arms to finish out the beautiful moving work of art which is our dance!