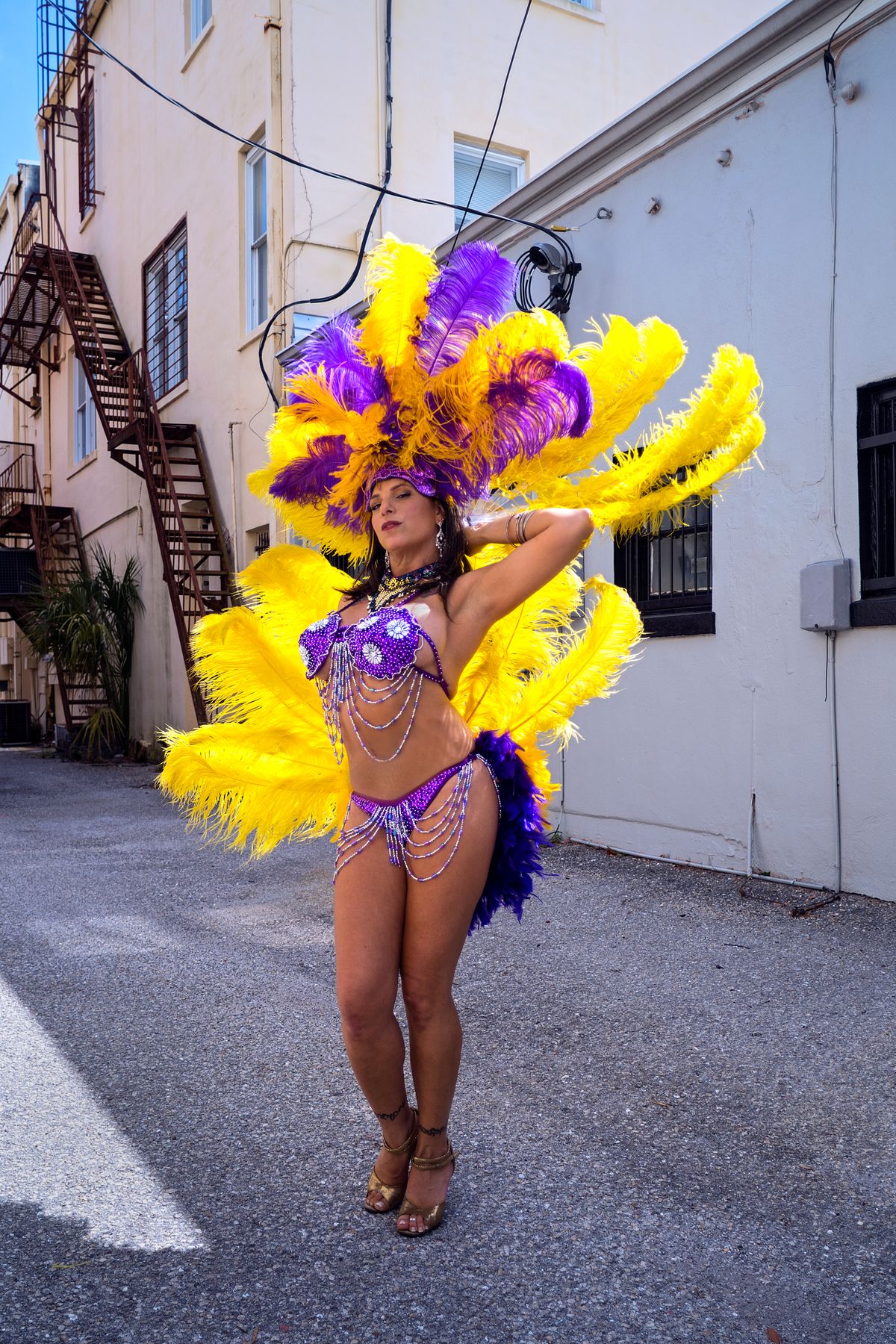 Erin DePrizio
Instructor, Performer, Director of Samba Syndicate Troupe, Belly Dancer, Samba Dancer
Erin has loved the stage as long as she can remember, acting, singing, and cheerleading; she started her professional training as a pom pom dancer with the cheerleading squad in high school. Then, her and her friends created a group called The Fly Girls, combining hip hop and cheerleading!
It was in Denver, Colorado, where Erin first began her belly dance studies with Suzanna DelVeccio. Excited to explore more, she found Kaya and Sadie, and training with them soon joined their troupe Groove du Monde, touring across the US performing Samba and Belly Dance and more. Upon moving to Florida, she began studying with Johanna Xenobia. Erin began a founding member of Johanna's troupe the Hip Stars, and a featured performer at Saint Petersburg Nights Restaurant & Lounge. The variety shows there showcased singers, comedians, and dances from around the world so Erin got to explore Samba, Russian, and Ukrainian dance as well as Belly Dance! Her obsession with Samba exploded into forming Tampa Bay's first Professional Brazilian Samba Dance Team, Samba Syndicate.
Upon moving to the Miami area, Erin was excited to study with Nathalie, and Annemarie Coniglio who trained Erin with their unique flavors of Samba and Belly Dance. Samba Syndicate continued to grow and expand their repertoire.
Now, we are excited to have Erin back in Tampa Bay, and teaching and performing with Hip Expressions and more! As Creative Director, Erin pushes her Samba Team; Samba Syndicate is BACK entertaining at local events, weddings, and on stage at the Showcases. Erin continues to study belly dance, yoga, and strength cross-training with cardio and weights to improve her dance. Beautiful with any prop such as Fan Veil, Fire, Wings, Sword, Zills, and Veil, you can find her on stage not only at Hip Expressions Showcases and private events, but also at Acropolis in Tampa off of Kennedy.
Erin is inspired by the Argentine style of Belly Dance, Brazilian Samba by Amy Mills, and is working on becoming faster and more intricate with her Samba, and strengthening and stretching to add to her Bellly Dance.
With her unique background of acting, singing and cheerleading, as well as a broad variety of dance, Erin has many tricks of the trade to offer her students. Her classes are uplifting and fun; she has a special gift in her unique approach to breaking down choreography so that even beginner students can learn, understand, and dance the steps.
When she is not professionally dancing or teaching, Erin is in school for Psychology. You can also find her spending time with her five foot boat, Princess, who loves attention. Perhaps we will see Princess on stage soon with Erin, too!