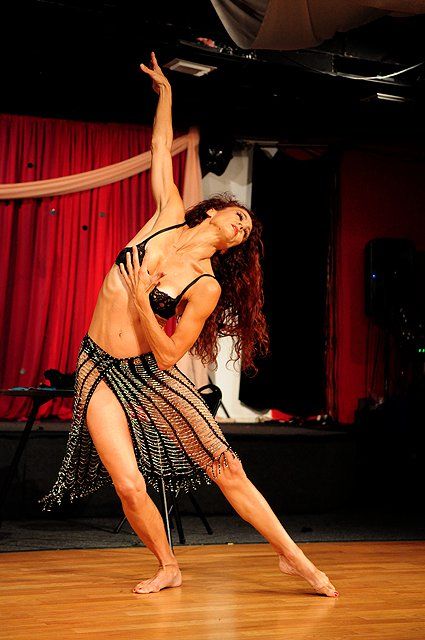 Evelyn Tosi
Dancer, Dance Instructor, Artist, Massage Therapist, Lover of Life, Kitty Mama.....
Dance has been the best part of my life since I was a child. As a teen I decided dance would be my career, my life! I have never doubted that decision and have been performing, teaching and studying professionally worldwide for over 30 yrs. My dance career has taken me from Los Angeles to New York and internationally. My performing experiences "run the gamut" from winning on the original Gong Show, to dancing in a Queen video on MTV. Some of my favorite "gigs" have been as principal dancer in the movies "Grease 2" & "A Chorus Line" and performing on stage at various times throughout my career.
I moved to St. Petersburg, Florida, to attend massage therapy school where I met Johanna Krynytzky (later to become Hip Expressions owner etc). We immediately started sharing our love for dance! Albeit different styles, we soon realized how many dance moves cross dance genres and eventually we studied and performed together. I have been teaching for Hip Expressions since 2009 and am fortunate to be sharing my unique experiences with my talented and dedicated students. I have also directed & choreographed for and performed in many of their productions.
In 2017 I realized I needed to create more, perform more often and share more of my experiences so I started a dance company.... "Dancing Branch...without her tutu". I believe I have been dreaming of this longer than I realize. It is an exciting time in my life....to be sharing more of my talents as a choreographer. My most recent dance inspirations are taking Nia class, studying Feldenkrais (a movement healing art), going out dancing with my love (the best "lead" I have had on and off stage) and always the beach. I love dancing in the water!!
My class description and a bit of my personal style:
"Evy's Intermediate Jazz Class...a unique style, melding various methods of jazz, ballet, modern, lyrical, burlesque and occasionally tap. There is an influence of Qigong in the fluidity of her movement with a hint of Belly Dance. In class you will always have a substantial warmup consisting of intermediate dance techniques and stretches set in patterns which incorporate Evy's personal style. There will be a variety of movements across the floor in small groups and typically a piece of choreography to learn. Her class will strengthen your mind-body-heart connection and help you create the best dancer you can be."
About taking class, I believe class is the place to learn, practice, have fun, laugh and cry at yourself and express your passion for dance. It is the place to experiment, explore movement, fall down, be "so in to" what you're dancing that you forget what's next. Dance class is where you can connect with yourself and others. It is where you find moments that you can hang on to and take with you to future classes and performances. Martha Graham is quoted as saying "Great dancers are not great because of their technique they are great because of their passion", she also believes that as dancers we have "freedom through discipline". "Freedom".... to move and trust that our bodies know what they are doing because of the "Discipline"... of being in class and practicing what we have learned. The more you learn the more fun you will have along your dance journey, whatever you choose it to be. I believe in your uniqueness and ability to shine.