Dance Leadership
Level 1 starting, Jan 2023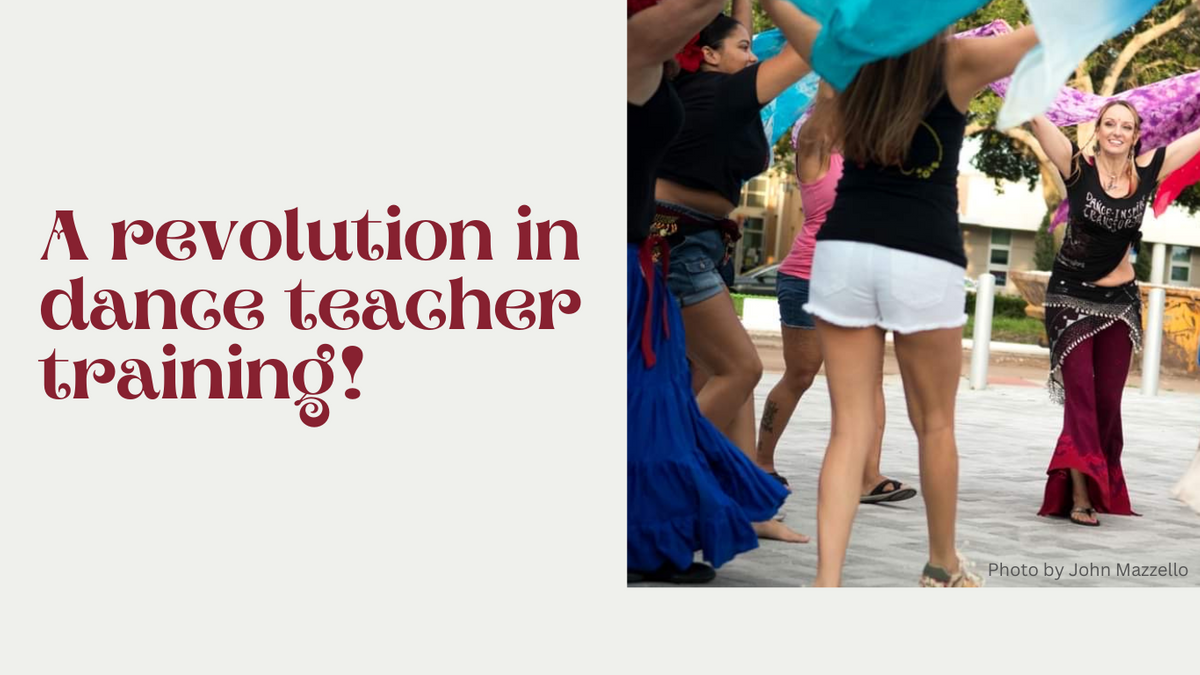 Watch the Video!
Learn about the program (Link requires login, free)
The dance instructor's dilemma...
...Why the lack of unity in the dance world?
...do you get frustrated dealing with problem students, or other dancers in your community?
...are your students having a hard time relating to their bodies, whether through injury or understanding?
...do you find issues come up in your troupe that you wish you could handle better?
...do you get frustrated understanding how to relate to the music you are teaching to?
...do you notice you need more teaching tools, or are you teaching the same class all the time?
...are you not sure how to market or present yourself, online or verbally?
...do you avoid conflict, get nervous before performing or teaching, or notice any other self-sabotage getting in the way of being joyful in dance?
...do you want to expand your business and share your inspiration with the world, and are not sure how?
How much do you think this lack of knowledge is costing you… in Time... In Dollars... in wasted energy...
Losing students?
Not getting paid what you deserve?
Resentments from misunderstandings?
Conflicts that go unresolved?
Your own self-doubts getting in the way of expanding your business?
Don't let years of lost energy & income go by... There's an easier way!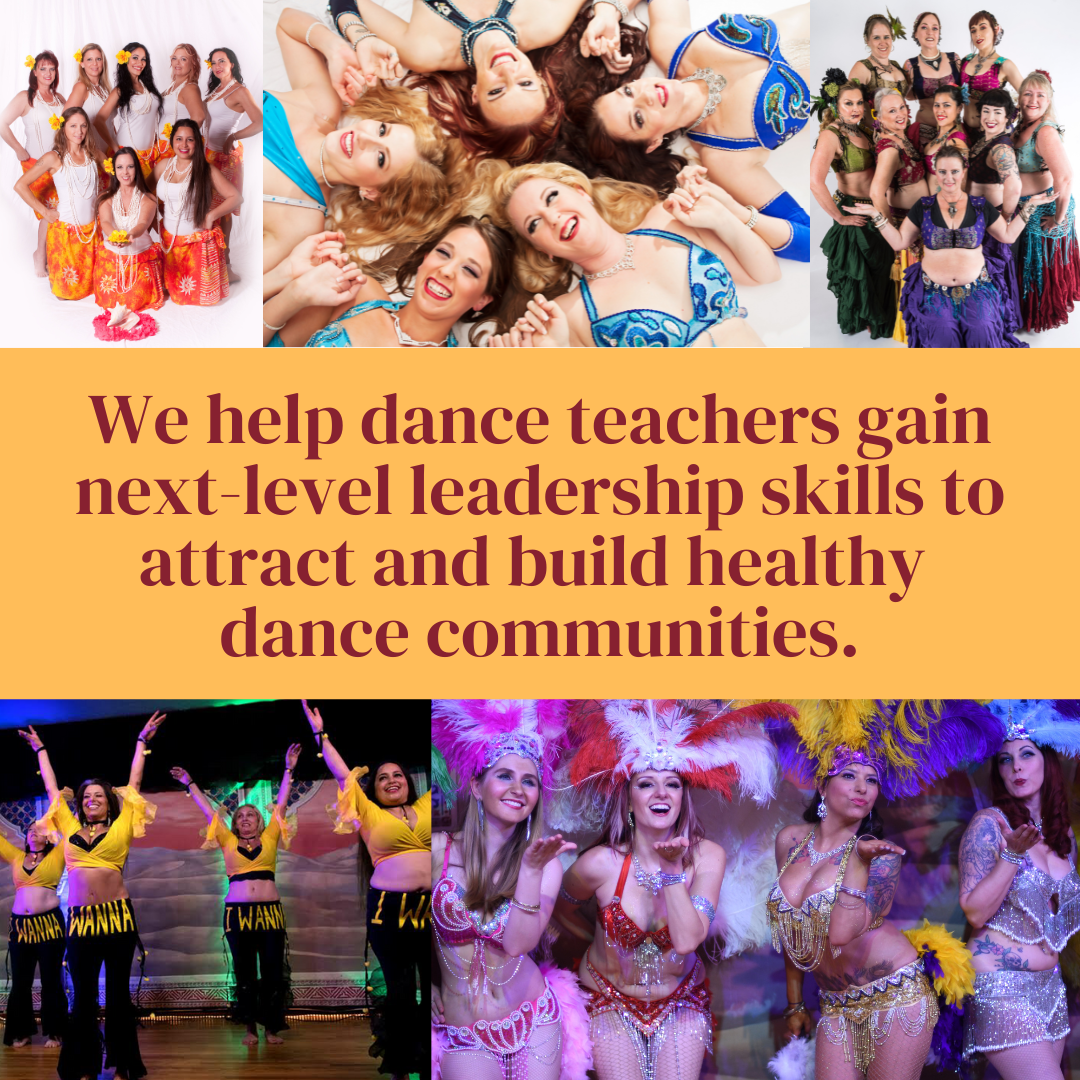 Is this Program for me?
You love to dance. You know how much dance has transformed YOUR life, and have been empowered to share that with others! You've studied with many different dancers, performed in groups or solo, professionally, or just for fun. You know how rewarding it is to dance - not just by yourself, but with others. You know the power of the dance community!
Perhaps you've taken some workshops, studied with amazing dancers, and even gotten some certifications in the style you love, or had some experience in other styles. You love music - you love moving to music - and are inspired to share that with others.
Your passion for dance inspired you to start teaching, and then either by default or plan, you started running a troupe, and coordinating dance performances. Perhaps by now, you've realized there have been some gaps in your education - you've been taught how to dance, maybe to choreograph and perform, learn combinations certainly, but did anyone teach you how to create classroom structure for success? Or the best way to handle conflicts as they come up? Or how to help your students when they injure themselves, or even stretch properly?
...
As I shared that same dance journey as you, over 25 years ago, I learned many techniques, choreographies, isolations, and games along the way. I learned everything I could about the dancing - and as Hip Expressions grew, I discovered what I was NOT taught, how to build a successful, healthy, loving dance community. I delved into other sources for the knowledge I needed - anatomy, musicality, and most notably, the business and leadership skills to handle my class, my troupes, and my growing business.
There are several KEY elements that are FUNDAMENTAL to being a successful dance instructor, and I have brought these all together in our Dance Leadership program.
You'll learn:
- how you are self-sabotaging yourself and all the tools you need to change your habits of thought
- simple techniques to increase your connection - and thus your student's connection - to the music
- classroom strategies to keep your students coming back and growing your classes
- an understanding of functional anatomy and which muscles we NEED to be stretching (and were never taught to) in class
- communication skills fundamental to handling conflict and business relations
- presentation skills so you can convey your passion and inspire others
- business and marketing skills to communicate to others what amazing transformations you can offer!
This program is NOT genre-specific; these strategies and trainings apply to ALL styles of dance. If you want more training in a particular style, we can offer that too, as you'll get unlimited access to Hip Expressions classes for the duration of the program.
You'll also receive a personalized, custom app to YOUR unique profile, with daily exercises, and be able to track your progress throughout the duration of the program.
For those interested in advancing their business, we provide training in that as well, with key business documents and strategies you can customize to your goals and ideals.
Wow, this is the program I WISH I had when I started teaching over 25 years ago! Dance is only the beginning...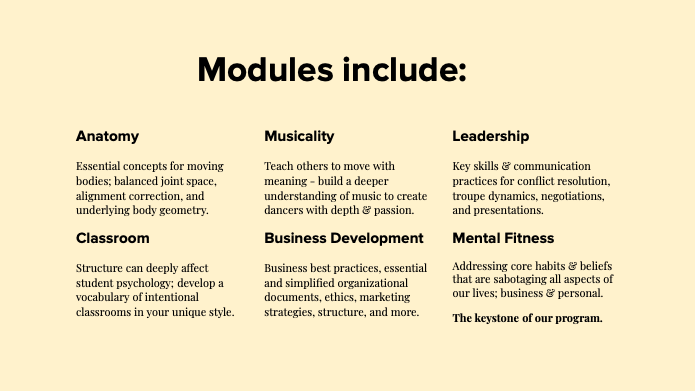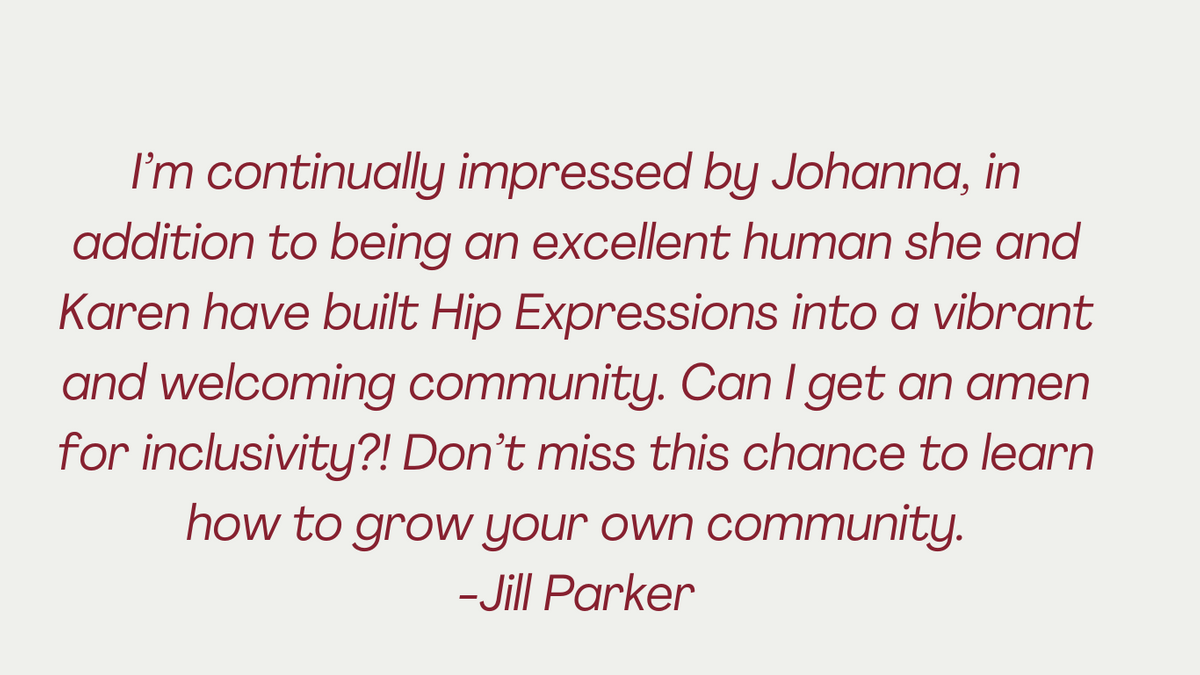 How does it work?
Our program is divided into 3 Levels, 3 months each, and can be taken at your own pace.
We begin with six weeks of mental fitness training in Positive Intelligence (TM). This will address key themes and practices that will be carried as a theme throughout the entire training.
We will meet two hours a week, through the power of the internet on Zoom, the entire duration of the program, in short 1-1 1/2 hour segments that you can easily fit into your life. Can't make a session? No worries! They will all be recorded so you have access.
Between these sessions, it is up to you to do the tasks that will carry you forward in each of the modules. It will be up to you to determine the pace of your program and your focus; while some may need to attend more of the anatomy sessions, others may want to focus on musicality skills. Thus, you can pick and choose what is most important to you to work on.
Participation is KEY! What you will receive from this program will be equal to what you put into it! It is very helpful, but not necessary, to be actively teaching a class during the program; that will be the place to incorporate the systems of teaching. This program is designed for those already familiar with their dance style, genre, and with teaching - this is NOT a teaching training for beginners or dancers who have no experience (don't worry, we're putting that together soon too!).
I am so excited to be offering this program, there's nothing else like this out there, combining mental fitness coaching, emotional intelligence, anatomy and physiology, leadership skills, musicality, and more, with a money back guarantee!
This program is SO important in starting to shift the dance culture of the world today; attendance is very limited so that you get personal attention towards your goals and development, so that YOU can start going out there and making a difference. Because I believe so much in this work, I'll be offering a scholarship to a teacher in need, as well as a limited number of 50% off spots to current Hip Expressions teaching staff.
*****************
BONUS - you will also receive:
- Hip Expressions Membership to attend classes online or in person for the duration of the Program
- Positive Intelligence 6-week PQ (TM) Program, PLUS their Grow Program (check them out, PositiveIntelligence.com)
- Shirzad Chamine's award-winning audio book, Positive Intelligence.
- Inclusion in a world-wide community of PQ
- Bonus workshops specific to Belly Dance: Isolations, Composite Moves, and Creating Combinations, and Middle Eastern Rhythms & How to Play Them
- Sample business materials such as Performance Contracts, Instructors Manual, and Admin Manual
- ...and more to TBA!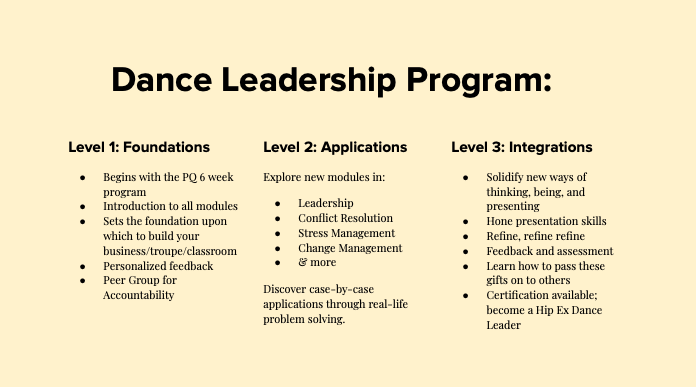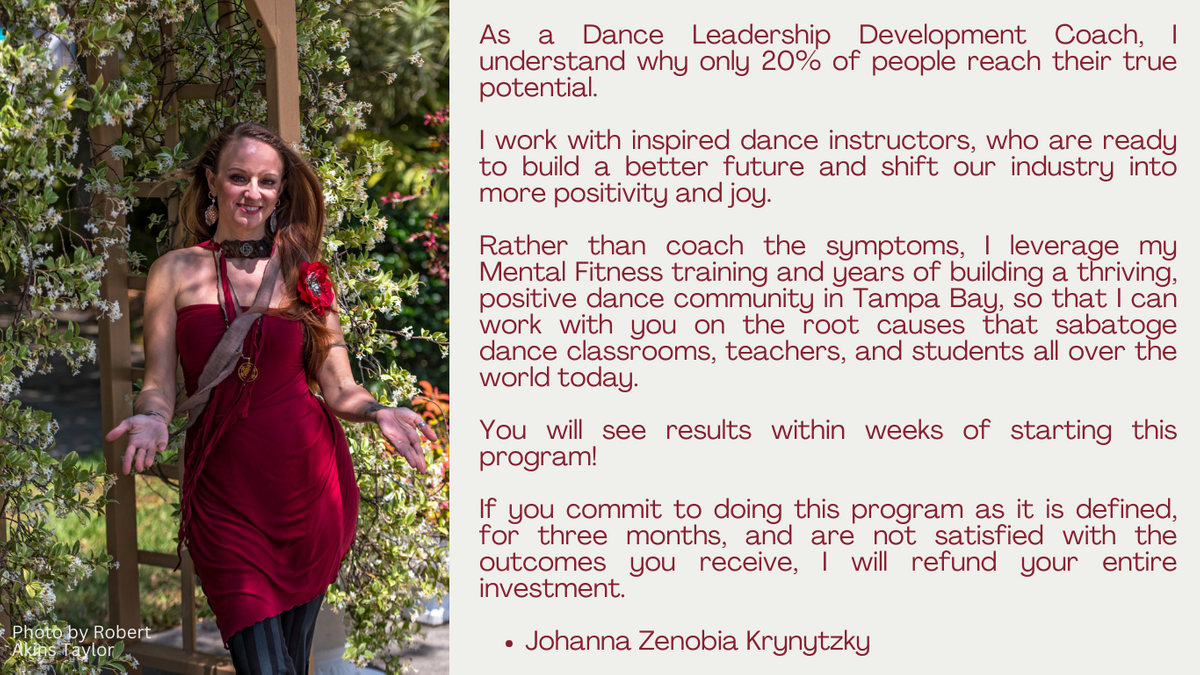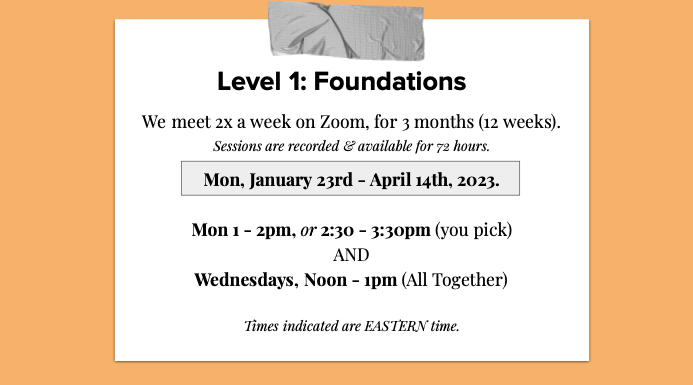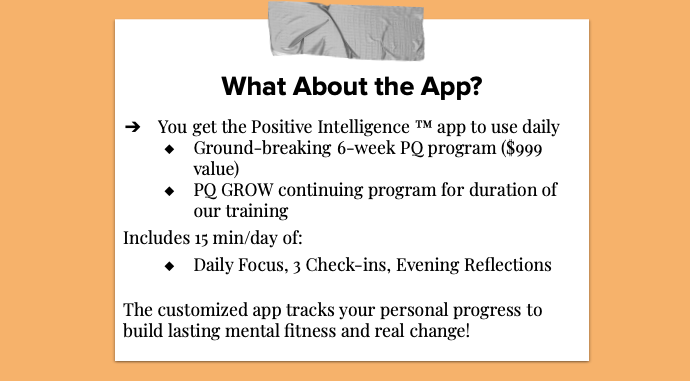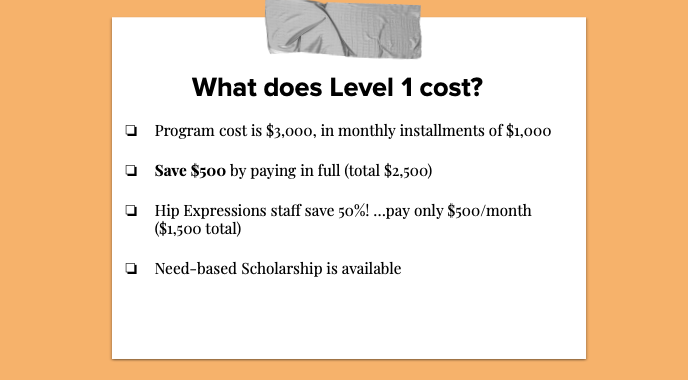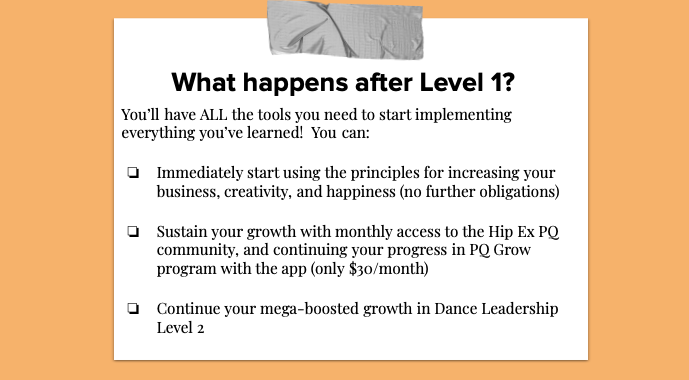 Is this the program for you?
Email or call me, tell me what struggles you are having right now and I'll immediately give you tips on how to handle them, using tools from our program. No strings attached, promise!