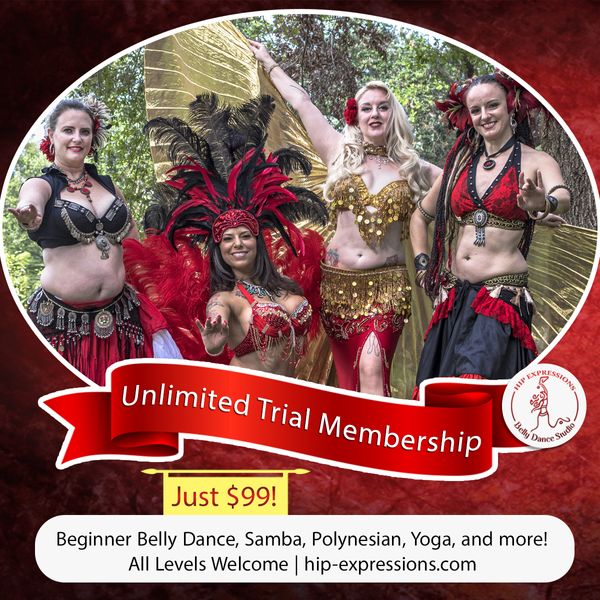 Try us out!
The Trial Membership give you access to all the drop-in classes, & Beginner Belly Dance Series, so you can try out Samba, Tribal Belly Dance, Belly Dance Yoga, Belly Dance, Yoga, Nia, and more!
Every class has a different style and flavor, and so do our teachers, so see which ones 'click' the most.
This includes Virtual classes, too, which you can access up to 72 hours after the class time to view at your leisure.
*excludes Special Series Courses (Tap, Flamenco, Choreo, Fire)

Private Lessons
Private Lessons
For personalized attention, private lessons are the way to go! From Basics, to Choreography, to strengthening after an injury. Available on-line through Zoom or in person. Our instructors can help you with technique, alignment, and much more. Call or email us with questions, we will tailor to your needs & goals. Group Rates available for Bachelorette parties or Girls' Night Out!
Choreography:
We are more than happy to create choreography for you! Bring your favorite song and we are happy to help - or ask us for a song recommendation. Please note this takes extra time outside of private sessions teaching you the choreography.
...$150/first minute, $50 additional time, in 30 second increments (a three minute song will be $350)
Business Policies
All new students get a RED FLOWER, they're by the door! Welcome!
Please check-in with our Staff when you arrive so they can check you in
All classes must be paid in full in advance; no refunds or make-ups unless specified
Must book the class PRIOR to start time
Class space is limited, reserve your spot in advance
Please cancel your reservation FOUR hours prior to class time to avoid being charged for the class and allow those on the wait list to be notified of availability
Late payments on failed AutoPays subject to a $15 late fee
To Create a Safe, Fun Space for all, please...
Consider the Four Agreements
Be Impeccable With Your Word
Don't Take Things Personally
Don't Make Assumptions
Always Do Your Best!
Also:
Only positive words about yourself and others - a smile goes a long way!
Make sure your notifications are turned ON for classes/marketing - we send out 2 newsletters a month with all the updates!
No chewing gum
Respect others' space
No videotaping unless ok'd by the instructor
Observers welcome - briefly - then encouraged to participate or sign up for a future program
No cell phones (or watches!) turn them OFF so you can focus
Try EVERYTHING
Ask questions
Be gentle with yourself - these things take time
Enjoy being a beginner again
Give yourself permission to feel awkward - and have fun anyway!
Scholarships
Hip Expressions is committed to growing our Mindful, Creative, Cultural Movement Community. We are happy to offer our need-based scholarship program so that no one's passion for dance go unfulfilled.
Our program is supplemented through the generous donations of donors who sponsor a learner to study at Hip Expressions. We are ever grateful for these donors, for investing not only in the personal growth of a spirit in need, but also in their local arts community. Donations can be anonymous or recognized as the donor is comfortable. If you know of anyone who is interested in sponsoring a learner, please refer them to Johanna at 727.459.8558, or johannahipex@gmail.com.
Scholarships are for our Membership (monthly Unlimited) on AutoPay.