Cruise
The Best Belly Dance Vacation Ever! Family & Friends Welcome!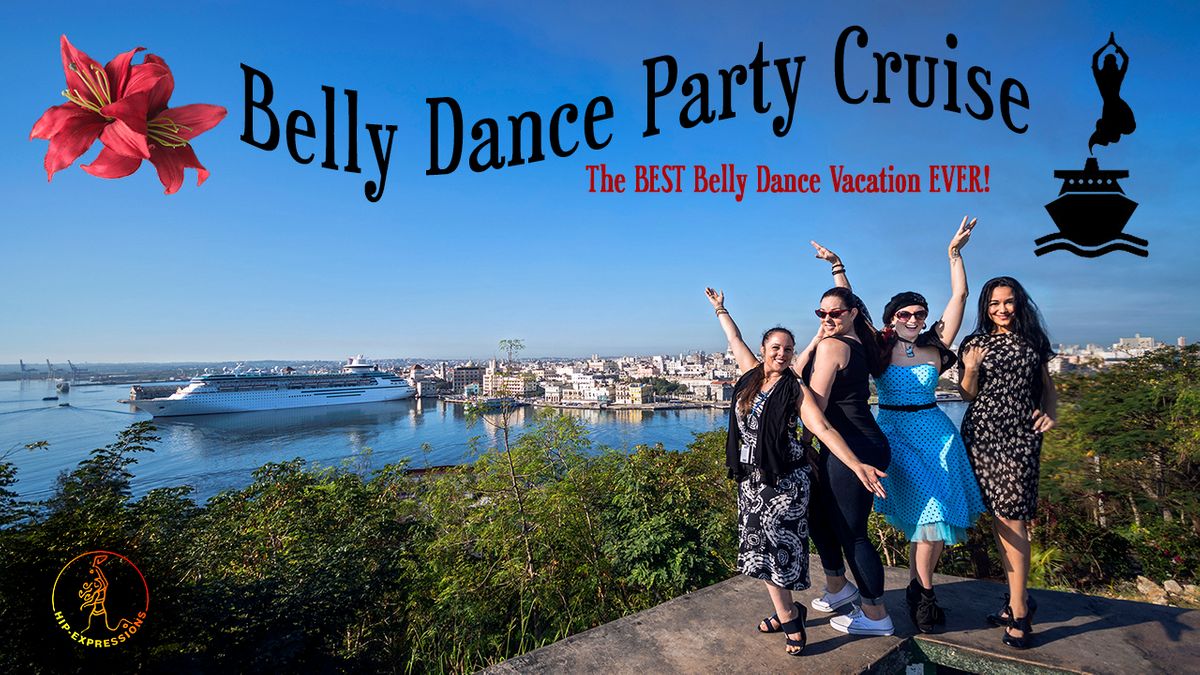 Explore - Collaborate - Inspire
Join us as we sail the seven seas, spreading joy and laughter with the symbol of the red flower to let people know that yep - we're the friendly ones with a smile and a dance for every body! All are welcome - we are belly dancers, family, friends, and others who get swept up in the joy and then become friends.
This is cruising as you've never done before; with dozens of pals ready to experience joy everywhere we go. Soon everyone else on the ship knows who we are, what we do, and when to expect a show! Get ready to be part of the red flower revolution!
Overview
We started our first cruise in 2009, and have been sailing every year since! We travel as a group on reputable ships that hold thousands of people; the red flower becomes a crucial identifier that you're part of our 'tribe'.
We vary ports of call, sometimes sailing out of Tampa, Miami, Ft Lauderdale, etc. The night before we cruise we have a Bon Voyage Party, so plan on coming early. When we sail out of Tampa, we host the party at the Studio, and stay at the hotel right next door (how convenient!).
You MUST book through our Travel Agent, Arleene. We book together early to get the absolute best pricing in the category of your choice; cruise lines are notorious for 'hidden fees' and we try to cover all of those up front. Don't be fooled by advertisements that are hundreds of dollars less... they haven't yet included the fees! Also, when we book together, we have clout to acquire spaces on the ship for our group gatherings, cocktail parties, theme nights, etc, as well as dinner times together. So if you don't book with us... you'll be left out! How to Book? Contact Arleene at arleenetravel@hotmail.com, or call 727.564.6847.
How to Join Us
Step ONE: Request to join Hip Belly Dance Party Cruisers private group on FB, so you stay updated as plans evolve
Step TWO: Contact Arleene and put your deposit down on a room. Don't worry, it's refundable so better to get in early! She'll need the NAME (as appears on your passport) & BIRTHDATES of everyone in your room, along with contact info.
Step THREE: Register with Hip Expressions, we have a Registration Fee that goes to us (not the cruise line) to cover our expenses of hosting the cruise. The cruise line hits us with fees, too!
Step FOUR: Make payments with Arleene, decide with her on drink packages, travel insurance, any extra amenities.
Step FIVE: Decide if you'll be taking classes on the ship with us, and pay that fee to Hip Ex (generally due later).
Step SIX: Continue to monitor FB as plans evolve! Working with Cruise ships on planning events is kinda like requesting a ride on a cloud. The cloud wants you come along, but is pretty vague on details until it's right over you and then you figure out you need an umbrella. (did that make sense to anyone except me? - Johanna)
Cruise 2021
...stay tuned for details! We are planning on a Hip Ex Staycation Feb 17 - 12, 2021, right here in beautiful St Pete Florida! Okay it's not quite a Cruise but we have beaches, flamenco shows, belly dance shows, sunset drum circles, classes, pirate ships... stay tuned for Beledi Beach Bash 2021!
CRUISE 2021, September - we hit the Mediterranean! Stay tuned for more details, join the Hip Ex Party Cruisers FB group and be the FIRST to KNOW!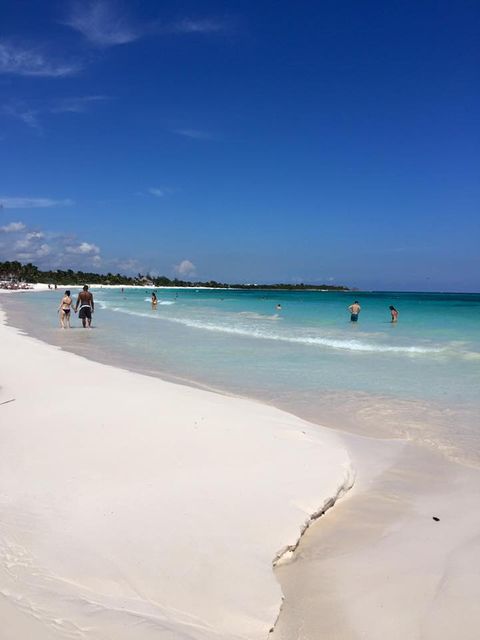 What to Expect...
Our Mission: Explore - exotic ports of call... Collaborate - build a community of dance & music... Inspire - you with classes & experiences, and all those we meet in our travels!
What to Expect: Aside from all the things to do on the Cruise Ship, we also offer...
FRIENDLY FELLOWSHIP of Cruisers! We welcome everyone and are here to have fun together!
Dinner together (most nights); try to sit somewhere new or next to someone new every night! Schedule changes announced as well
Dance, Drum, Music, and Yoga Classes - instruction in a variety of topics! You'll learn something new!
Jams after dinner, sometimes in the hot tub, sometimes in our favorite location
Dancing & Shenannigans - We often close down the disco so NEVER think everyone's gone to bed!
Theme Nights - Pirate/Mermaids, 70's Night or White Party, Wig Night, Hat Day, Formal Night...
Professional Show (open to dance professionals & troupes, submit a Performer Application and please include links to videos of your performance for consideration.)
How to Prepare:
Musicians & dancers, check in with us to see what songs/pieces we are working on for next year so we can all prep and plan ahead
Check back for theme nights so you can plan your costumes. There will always be a Fancy Night, maybe two
Check back for schedule changes... they happen often when you're planning a trip at sea!
Take your vitamins! You want to be healthy on our trip!
Get ready to have some FUN!!!!
* Please note the itinerary is not mandatory! At any point in time you are also welcome to: Relax in your room and order room service, relax on deck and read a book, enjoy hot tubs, pools, movies on the pool deck, game rooms, get involved in their games & activities (check the ship's daily schedule), try your luck at the Vegas-style casino, get a treatment at the Spa, visit the fitness center, jogging track, play at the video arcade, eat at the various restaurants on the ship, enjoy a show in the main theatre, dance in their disco, have a cocktail and lounge in their bars, shop Duty-Free, visit the art gallery
...Bringing the kids? Tons of Kids Activities, Teen hangouts and family-oriented activities too!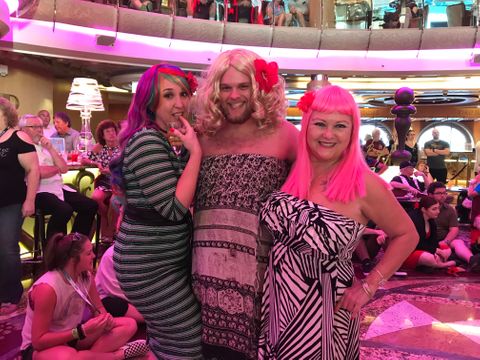 Suggested list of What to Bring
Passport & cash
RED FLOWER(s) - attach to hair, bags, lapel...
bathing suits, sunscreen & insect repellant
motion sickness deterrent (our favorites are the wristbands & Bonine)
sweaters for inside/late night
yoga pants/dance class attire
instruments (drums, flutes, guitars, accordions, zills, harmonica, anything you have that makes noise)
Costumes for theme nights. Past nights have included: Formal, Hat, Wig, Gatsby, 70's, Pirates/Mermaids, White/Glow
good walking shoes for any excursion or water shoes if you need them
anything you may need if you book an excursion
A SMILE & willingness to go with the FLOW!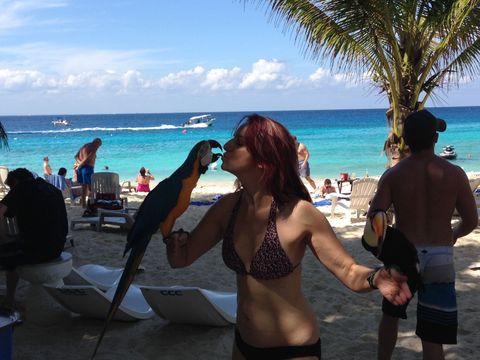 Testimonials
"Had a great time! Such a wonderful, fun-loving group to hang out with. Love the body confidence!"
"This group was the most inclusive & welcoming group. That alone completely made this trip worth every minute & penny! Thank you!" - Dancer
"Everyone was so nice and sweet. I didn't have one bad moment the whole week." - Non-Dancer Friend
"I really enjoyed this, I felt no pressure to do anyhthing and was able to enjoy it my way! Looking forward to next year!" - Dancer
"It was great to meet Shimmy Mob dancers from all over! What great people!" - Dancer
"Really enjoyed meeting everyone. Everyone was very welcoming. All the activities were very well coordinated and fun!" - Dancer Spouse
"It was a great experience, the staff was amazing & extremely nice. First time on the cruise & I would recommend it!" - Dancer Family member