Dance - Inspire - Transform

We are a Global Inclusive Creative Movement Community
Are you looking for something fun and unique? A friendly place where you can feel accepted just the way you are, and inspired to discover more about yourself through different cultural art traditions?
Join us and check out our fresh approach to a more meaningful life through dance and self-expression! Hip Expressions Belly Dance Studio is a body-positive, tradition-sharing movement. We are a community, a collaboration - dancers, musicians, artists, yogis, students, professionals, and supporters, of all ages, shapes and sizes... all united around a commitment to community, wellness, and art. Join us!

**A Dance for Every Body**
Our body-positive classes will help you feel at home right away. Come try us out!
Pre-Registration required for ALL Classes, look carefully as to the location of the class so you go to the right studio!
Studio & Virtual classes, including Belly Dance, Nia, Polynesian, Samba, Flamenco, Choreographies, Meditation, & Yoga
**Our Beginner's Belly Dance Course is a great place to start!**
Keep Calm... and Dance On!
Belly Dance Beginner Courses
ALIGN & SHINE YOGA
In these 8-week Hatha yoga class series, Michael focuses on building a sustainable, grounded practice. This series is appropriate for beginners and practitioners since new principles of alignment may be introduced. Poses will be explained from the ground-up with emphasis on "dristi" (or focus) being foundational alignment and actions of poses. We'll stay connected to the breath through a heart-centered theme that connects to the entire class. This is not a flow class since these prerequisites are foundational to any flow class.

Dr. Michael Ward is extensively trained in therapeutic uses of Hatha yoga while holding a class atmosphere that's heart-centered and fun. Michael's journey in yoga began in 2001 and shortly after he discovered his primary influence: Anusara® yoga. Michael was certified by John Friend in 2009 and resigned in 2016 while in chiropractic medical school to cultivate his own vision of yoga. In 2018, Michael graduated with his doctorate and stopped teaching public yoga classes to pursue his new profession.
Newest Series Courses & Workshop
The Courses are offered ONLY as a series, no drop ins, and have a special price for Members. Sign up EARLY as in-person spots are limited!
You can find them listed HERE to sign up.
"I feel like I found a secret heavenly place on earth"
There are many, many classes available to choose from, and multiple days of the week to fit my busy schedule. Most of all, I love the women and the openly accepting environment where everyone encourages, supports and recognizes one another for their inward beauty, and builds one another up, boosting confidence in one another.
Sandra Johnson - St Pete, FL
You provide many with a safe, comfortable home for artist expression as well as a place where you can make supportive friendships. People are free to participate as much as, or as little as they have the opportunity and desire to in your services, all of which may provide improved health and fitness,and self-confidence.
Sandy Sayson-Fraser - Clearwater, FL
The atmosphere of the studio is amazing, the teachers are fun and very kind. I'm very happy to be a repeat customer I feel like I found a secret heavenly place on Earth within these doors!!
Cristina Meraki - St Pete, FL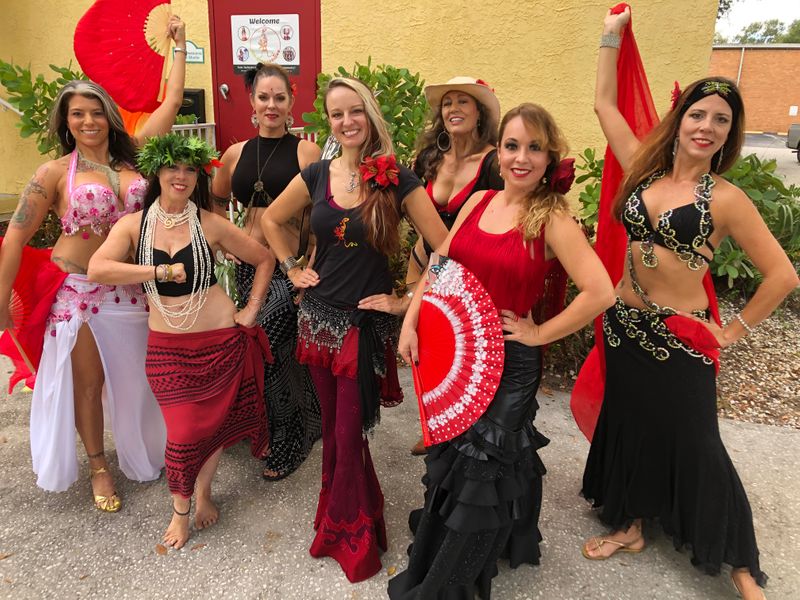 Check out the latest Channel 10 uplifting news clip about our fearless leader, Johanna Zenobia!
Hip Expressions in Action
Welcome to the Community of Inspirational Movement!